EMCEL GmbH is an engineering company. Our team consists of engineers in the fields of automotive engineering, mechanical engineering and electrical engineering. We offer consulting, engineering and services specifically in the following fields:
Fuel cells
Hydrogen technology
Electric mobility
This means components and system development when it comes to fuel cells. For us, hydrogen technology includes the design of storage systems and the associated safety. We also deliver solutions for infrastructures as well as for vehicles and the corresponding fleets in the field of electro mobility. We also conduct energy audits in accordance with DIN EN 16247-1 in your company. What do we do specifically for our customers – and maybe tomorrow for you?
We support your project with regard to standards, approvals and safety.
We develop your ideas together with you. Be it in the form of feasibility studies, planning or profitability assessments.
We also offer you the maintenance and repair of your electric vehicles and fuel cell systems regardless of the manufacturer.
Publications
Below you will find an extract of our publications. These include presentations and press releases about EMCEL itself as well as articles and contributions written by us in trade publications.
A brief presentation of EMCEL GmbH in general, our team, core competencies and services offered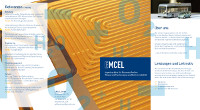 A brief presentation of the EMCEL GmbH, our competences and services.
A model-based analysis of the contribution of gas infrastructure to sector coupling in the use of green gas.